News
3-Feb-23
Tim Hortons 2023 Choose to Include fundraiser. Many thanks to Tim Hortons for your support! The Choose To Include donuts were delicious!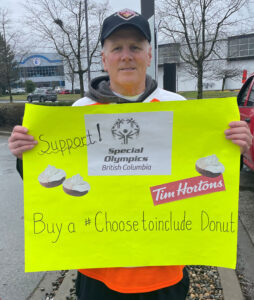 31-Jan-22
Tim Hortons 2022 Choose to Include fundraiser was a big success! Thank you Tim Hortons for donating all proceeds from the sale of the special edition donut to Special Olympics!
4-Oct-21
SOBC Coquitlam receives new crash mats for the speed skating program!
14-Mar-19
Congratulations to Sheila Hogan, coordinator for the SOBC Coquitlam district, who is the recipient of the 53rd Annual Sport BC President's Award. Thank you, Sheila, for everything you do to promote and sustain Special Olympics activities in our communities!
15-Sep-18
Sobeys Special Olympics campaign to raise awareness of healthy food choices with food samples was held at Thrifty Foods in the Suterbrook Village on Sept. 15.
12-Aug-18
The Tri-Cities News printed a profile of athlete Sean Casey (and his mom, Alison). Congratulations to Sean for winning a bronze medal for short javelin at the Special Olympics national games!
11-Jun-18
Athlete Devon is photographed with Mayor Richard Steward (Coquitlam) and an RCMP officer at the annual RCMP torch relay run.
20-May-18
Ariel, Jay, Devon, Kyle, Glen, and Pam had a busy day filling 130 bags with manure for our mini-manure fundraiser. Needless to say, we were all 'pooped' by the end of the day!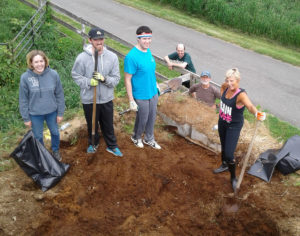 18-May-18
Shawn, Devon, Ariel and Lauren helped collect donations at the annual Staples Give a Toonie, Share a Dream store event.
25-Apr-18
Nicholas and Eric help to bag at a Staples Give a Toonie, Share a Dream fundraising event.
19-Mar-18
Congratulations to the medalists in the Rhythmic Gymnastics competition!
3-Mar-18
The 2018 Coquitlam March Madness basketball tournament. A good time was had by all!
27-Feb-18
The 2018 Vancouver Polar Plunge for Special Olympics BC will be held at Kitsilano Beach on Saturday, 3-Mar-18. Check out the video from last year's plunge here. Athlete fundraising will need to come through the Polar Plunge website, found here: www.plunge4specialolympics.com or be submitted in person at the Polar Plunge registration on March 3rd. 
10-Feb-18
Congratulations to Alison Baines, Mena Fielding, Rene Girard, and Richard McDonald for getting Third Place in teams 10-Pin Bowling at the SOBC Cupids Ball Tournament. They had a combined overall score of +61 pins over average.  Everyone did amazingly well. We are very proud of them!
6-Feb-18
Congratulations to the Coquitlam speed skating athletes who did well at Sunday's speed skating meet.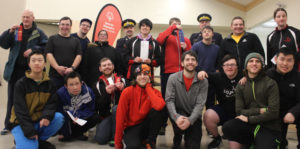 16-Jan-18
Special Olympics BC has announced that the 2019 Special Olympics BC Winter Games will be hosted in Greater Vernon in February 2019.
21-Dec-17
Coquitlam basketball gets a visit from Santa
8-Dec-17
We are holding our annual Christmas Party and Dance on 
Sunday, Dec 17
at
Place Maillardville
2:30-4:30 pm. Please join us! 
28-Nov-17
Thanks to all those that attended the Pub Night last night - we had a VERY fun evening!  Thanks to everyone that contributed items for our baskets, and those that helped get larger prizes donated - Don Bruneau, Rob Sayer, Sylvia Urban, Dean Prentice, Dawna Rogers and everyone else!
26-Nov-17
Join us for the Pub Night fundraiser at Micky's Public House on Sunday 26-Nov-17. A burger and a beverage for $20 plus door prizes, 50/50 raffle and silent and live auctions. See you there!
24-Nov-17
SOBC Coquitlam athlete Ariel Taylor joined Mayor Richard Stewart and City Councillor Teri Towner yesterday to help Special Olympics Canada partner JYSK Bed Bath Home open their new store! The new location on United Boulevard is a second Coquitlam store for JYSK and a flagship outlet. Thanks to JYSK for featuring Special Olympics this event and for their support of Special Olympics athletes across Canada!
27-Oct-17
A big thank you to the Coquitlam Optimists Club for their generous donation of $500 to the Coquitlam local of Special Olympics BC! Your generous donation will help us to continue providing sports programming for Special Olympics athletes in the Tri-Cities and New Westminster region.